Lipid metabolism impacts remyelination
Research Article
Remyelination requires orchestrated lipid droplets formation and cholesterol esterification by microglia.
About the authors
---
Olga (Olya) Vvedenskaya, Henri M Deda
---
Resources
---
About Lipotype
---

Lipotype is the leading lipidomics service provider. Order your service. Send your samples. Get your data.
---
Coverage of 85+ lipid classes and 4200+ individual lipids
Rich variety of sample types from subcellular to organs
High-throughput analysis for data in as little as 2 weeks
GMP certified, robust, and highly reproducible
Summary
• Remyelination requires myelin debris clearance
• Microglia phagocytic function relies on lipid droplet genesis
• TREM2 receptor is essential for lipid droplet formation and thus the protective response required for remyelination
Authors


Olga (Olya) Vvedenskaya, Henri M Deda
REMYELINATION is a regenerative process that can occur during central nervous system (CNS) damage. In cases like multiple sclerosis or Alzheimer's disease, remyelination often fails during the progressive phase of a disease.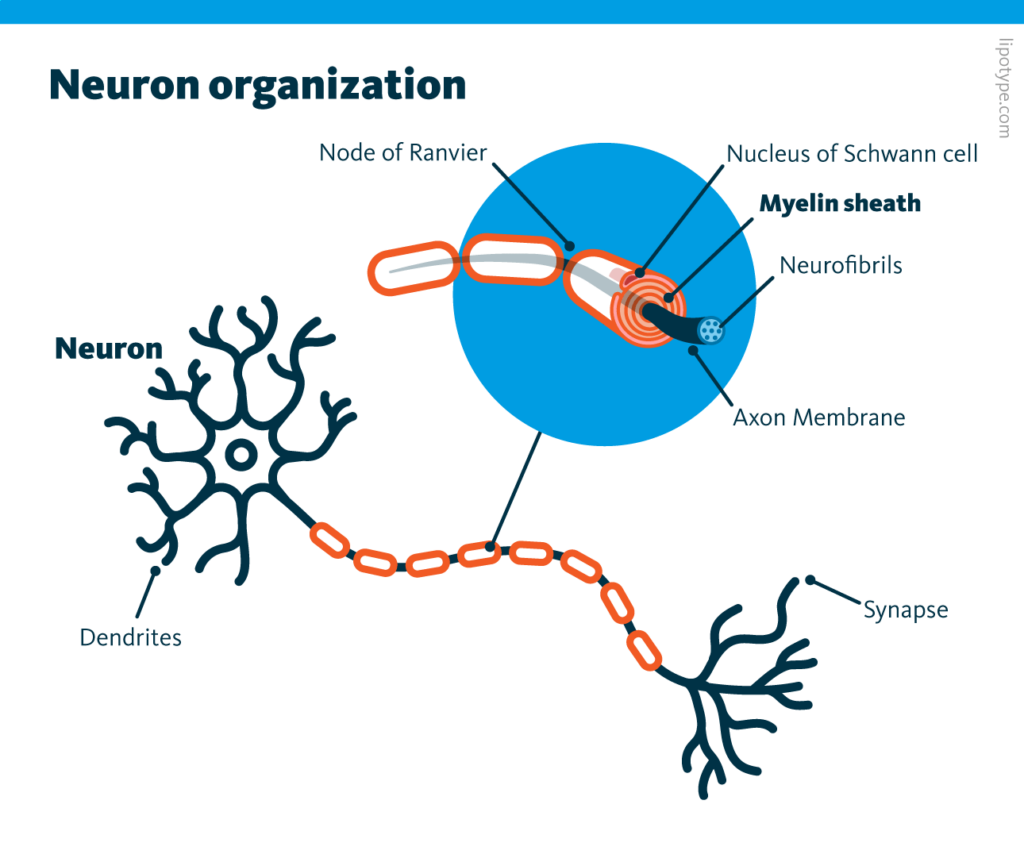 Microglia – a type of glial cells – are innate immune cells of the brain and spinal cord, that are an essential player in inflammation response and in myelin repair after the demyelinating injury.
It is essential to understand the details of remyelination and lipid composition remodeling in order to work on the interventions of myelin sheath reconstruction.
In case of CNS injury, myelin debris is generated from the myelin sheath covering an axon. The debris consists of myelin membrane fragments, cell fragments, and certain lipids, such as cholesterol, phospholipids, ceramides, and further sphingolipids.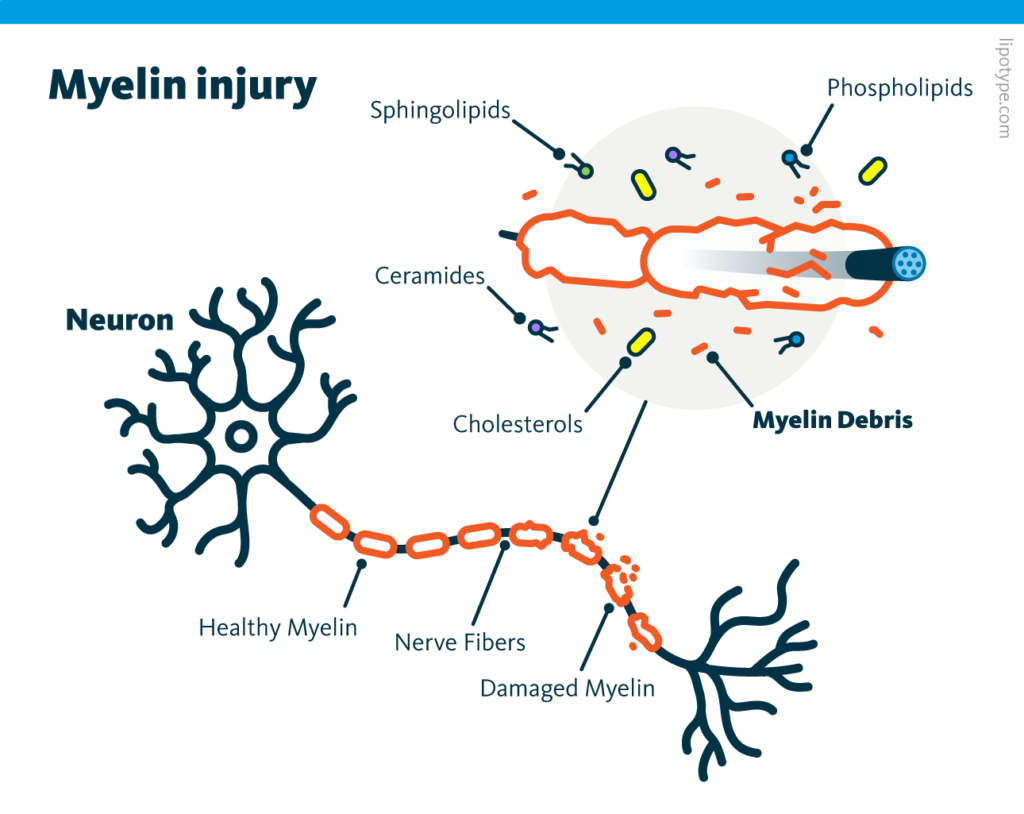 Under normal conditions, during the clearance of myelin debris the cholesterol (unlike other lipids) cannot be degraded by the lysosomal enzymes and is transferred from late endosomes to endoplasmic reticulum (ER). ER, on its turn, cannot cope with the excessive amount of free cholesterol, that is why free cholesterol is being esterified into cholesteryl esters and stored in lipid droplets.
Cholesterol exposure is required in microglia macrophages for a proper myelin debris uptake. When this buffering mechanism of lipid droplet formation is defective, microglia phagocytes do not resolve from demyelinating lesions, and the regenerative response during remyelination fails.
Gouna and Simons studied the role of triggering receptor expressed on myeloid cells 2 (TREM2) in the metabolic pathway required for remyelination, in particular, for myelin debris clearance in cell culture and mice brain and spinal tissue. This study shows that in case of TREM2 deficiency the adaptive response to excess cholesterol exposure is compromised. The reason could be that TREM2-dependent gene expression is necessary to trigger the generation of enzymes required for lipid droplet formation and thus for proper remyelination.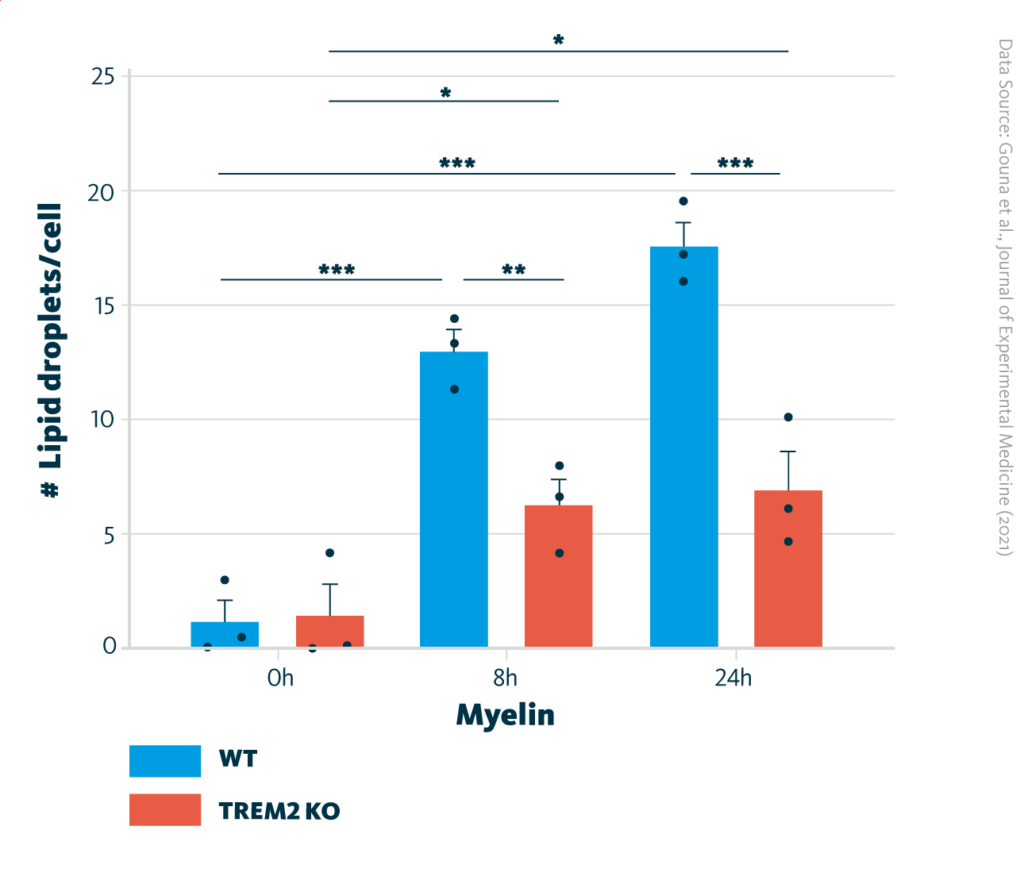 Comparison of lipid droplet formation in TREM2-KO and WT cells: Quantification of the number of lipid droplets per cell in postnatal microglia. *, P < 0.05; **, P < 0.01; ***, P < 0.001.
Gouna et al., Journal of Experimental Medicine (2021), doi:10.1084/jem.20210227
The lipidomic analysis reveals that TREM2-deficient phagocytes not only fail to generate cholesterol esters but also are deficient in triacylglycerol (TAG) generation. The accumulation of phosphatidic acid in TREM2-deficient phagocytes points to decreased activity of lipin phosphatidic acid phosphatase, which catalyzes the conversion of phosphatidic acid to diacylglycerol. Lipin is unique among biosynthetic enzymes in TAG generation as its enzyme activity is regulated by its transition between the ER and the cytosol.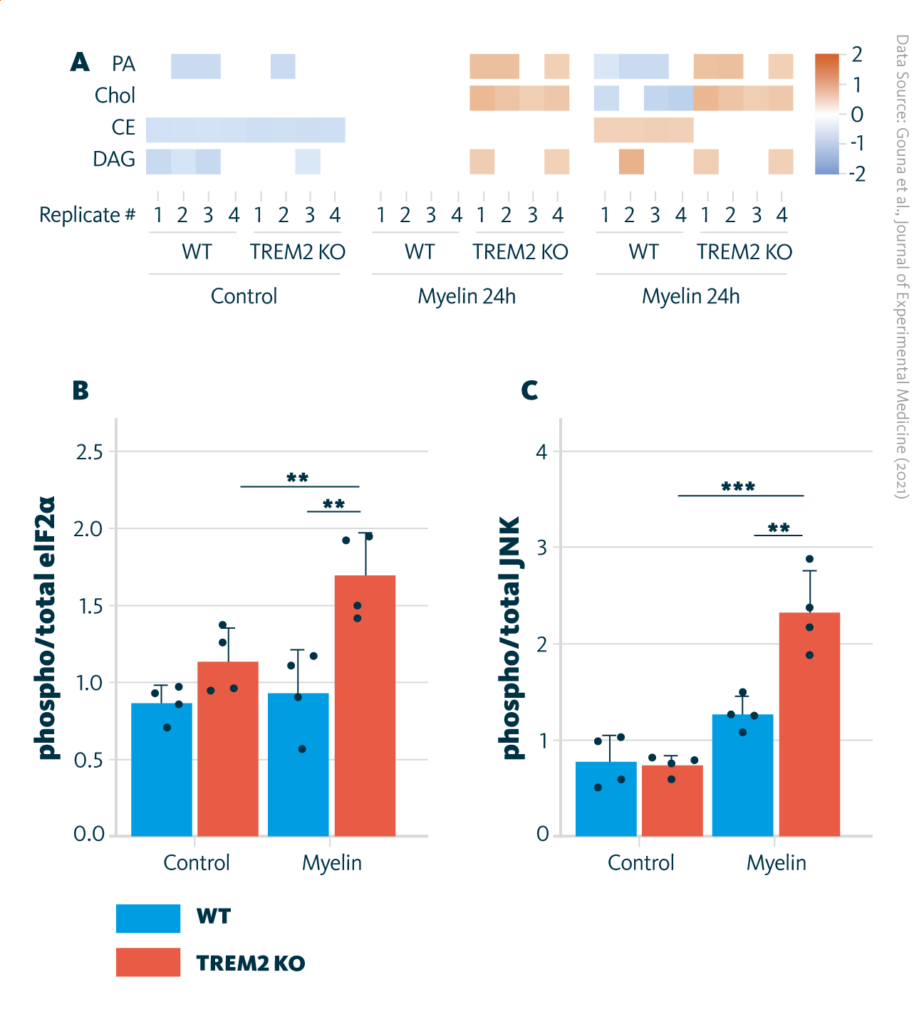 Comparison of lipid profiles in TREM2-KO and WT cells and ER stress presence: A Untargeted lipidomics analysis of WT and TREM2 KO cells cultured in serum-free media or with myelin for 8 or 24 h. B and C Analysis of ER stress by quantification of phosphorylated eIF2α (B) and phosphorylated JNK (C), measured by Western blot. **, P < 0.01; ***, P < 0.001.
Gouna et al., Journal of Experimental Medicine (2021), doi:10.1084/jem.20210227
Because TREM2-deficient phagocytes are able to internalize myelin debris but fail to mount the necessary for proper remyelination metabolic responses to the internalized cargo, they become exposed to the toxicity of free cholesterol that builds up with time. Consequently, cholesterol-induced cellular stress develops, and the authors observed evidence of ER stress in myelin debris–loaded TREM2-deficient phagocytes. Previously, ER stress has been demonstrated to impact the vaccine adjuvant AS03 and kidney disease in diabetes, but is also investigated as a novel therapeutic approach for triple negative breast cancer.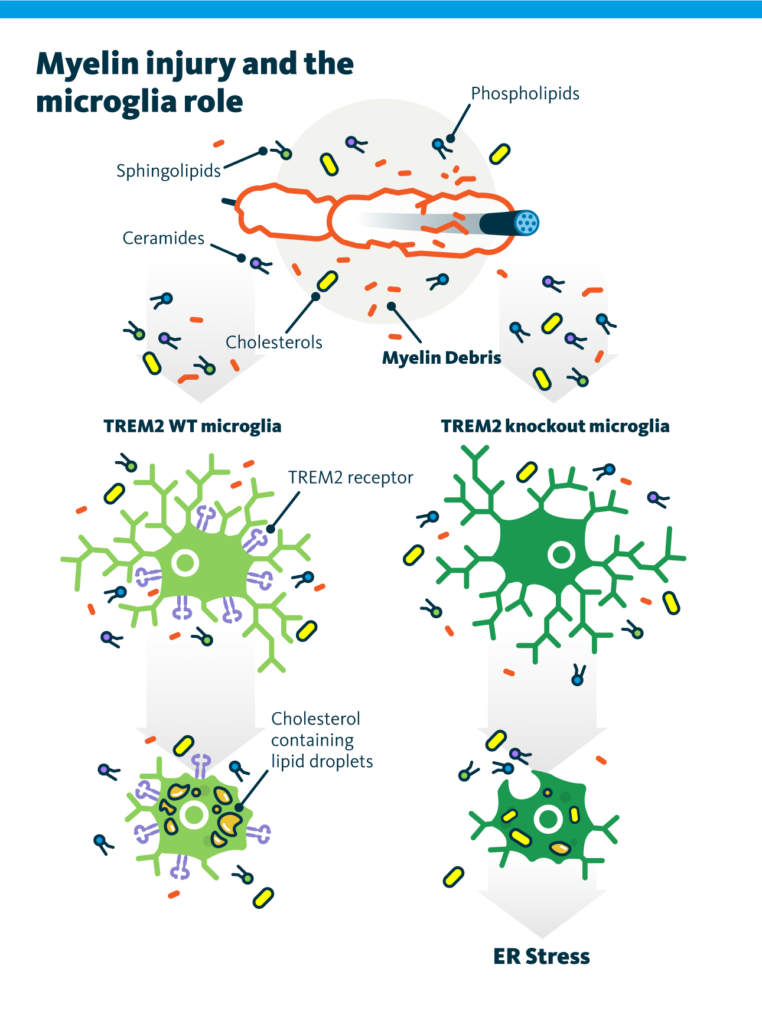 This study investigates the phagocytes function of clearing cholesterol excess that occurs as a result of a demyelinating injury. In summary, cholesterol efflux and esterification are essential to promote the resolution of innate immune inflammation and to support remyelination.
Lipotype Lipidomics technology can be used to characterize the lipid profile of primary patient samples, tissue from model organisms, and in vitro samples. These data can provide insight into a wide variety of diseases, including neurodegeneration involved in the development of Parkinson's disease, cancers, cardiovascular diseases, and metabolic disorders.
together with
Technical University of Munich
---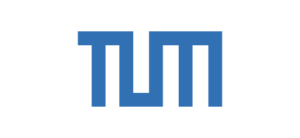 The Technical University of Munich explores the origins of the universe and the foundations of life, seeking solutions to the major challenges of our time. They align the development of technical solutions towards the functionality for people, the values and needs of society, and the requirements of a sustainable future.
Share this story

About Lipotype
---

Lipotype is the leading lipidomics service provider to reach your research goals. Order your lipidomics service, send in your samples and get your data in as little as two weeks.