Oxidized Octadeca­dienoic Acid
We provide MS-based lipid analysis of oxiODE fatty acyls in a variety of sample types and deliver results in eight or less weeks.
About the structure and biological function of oxiODE
Structure. Oxidized octadecadienoic acids (oxiODE) belong to the group of octadecanoids within the fatty acyls. Their structure is based on octadecanoic acid, an eighteen carbon atoms long hydrocarbon chain with a carboxyl group. The chain contains two double bonds, from which their name derives. OxiODEs may further encompass multiple oxygen containing substituents such as hydroxy and epoxy groups.
Function. Oxidized octadecadienoic acids are associated with inflammation. They activate receptors inducing pro-inflammatory cytokines, proteins that are vital in controlling of immune system cells. They further contribute to pain perception and serve as markers for oxidative stress. While oxiODEs may trigger programmed cell death in some cancers, elevated levels of oxidized octadecadienoic acids have been found in psoriasis and non-alcoholic steatohepatitis (NASH).
oxiODE lipidomics analysis with
Lipotype
| | |
| --- | --- |
| Structural details | molecular species |
| Variants identified | < 10 |
| Approach | targeted |
| Method | mass spectrometry |
| Device | Agilent 1290 HPLC + 6495 Triplequad |
| Quantification | yes |
| Delivery time | 6 weeks |
| Lipidomics data | pmol & mol% |
| Figures | in development |
EXAMPLE STRUCTURE
oxiODE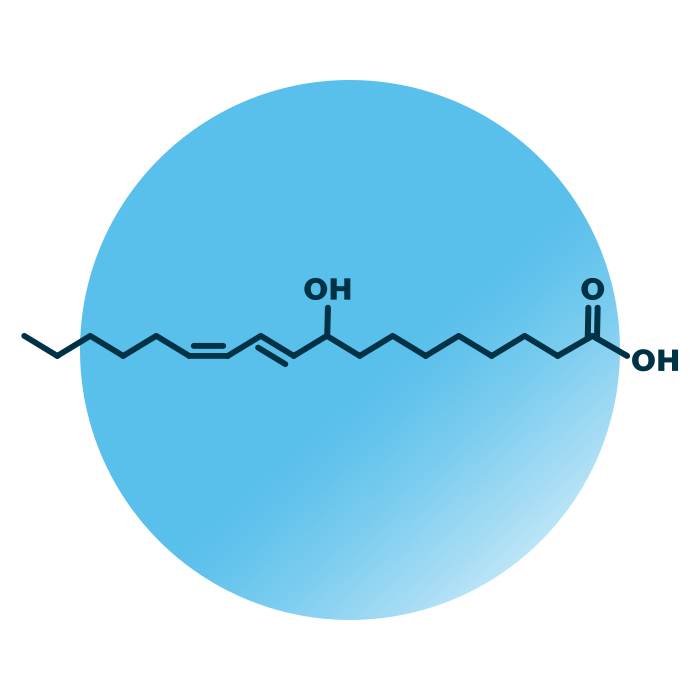 Interested in
oxiODE
analysis?
ABOUT LIPOTYPE

Lipotype is the leading lipidomics service provider for industry and academia. Order your service, send your samples, get your data.
Request Analysis
You want to inquire lipid analysis for your project or ask questions about Lipotype Lipidomics? Please use the contact form below!