About the structure and biological function of Ether Phospholipids
Structure. Ether phospholipids belong to the phospholipids. Their structure consists of a glycerol backbone linked to a phosphorylated "head" group, such as phosphorylcholine or phosphorylethanolamine. Ether phospholipids contain one to two further substituents: at minimum one is a fatty alcohol but no more than one is a fatty acid. Yet, at least one of the two substituents is ether-linked to the glycerol backbone.
Function. Ether phospholipids are found in animals, archaea, and some bacteria but rarely in plants and fungi. They are important structural components of cell membranes and influence their biophysical properties, such as membrane thickness, compression, and rigidness. Ether phospholipids further serve as a store of polyunsaturated fatty acids with important biological functions such as arachidonic acid.
Ether-linked phosphatidylcholine (PC O-), also called platelet activating factor, is the most prominent type of ether phospholipids and induces the aggregation of blood platelets. Ether-linked phosphatidylethanolamine (PE O-) serves as a major biosynthetic precursor of some endocannabinoids, biomolecules serving important neurological functions. Little is known about ether phospholipids with only one substituent.
Ether Phospholipids lipidomics analysis with Lipotype
| | |
| --- | --- |
| Covered classes | 4 |
| Approach | untargeted |
| Method | mass spectrometry |
| Device | Q Exactive Orbitrap (280.000 Res) |
| Quantification | yes |
| Delivery time | 2-6 weeks |
| Lipidomics data | pmol & mol% |
CORE STRUCTURE
Ether Phospholipids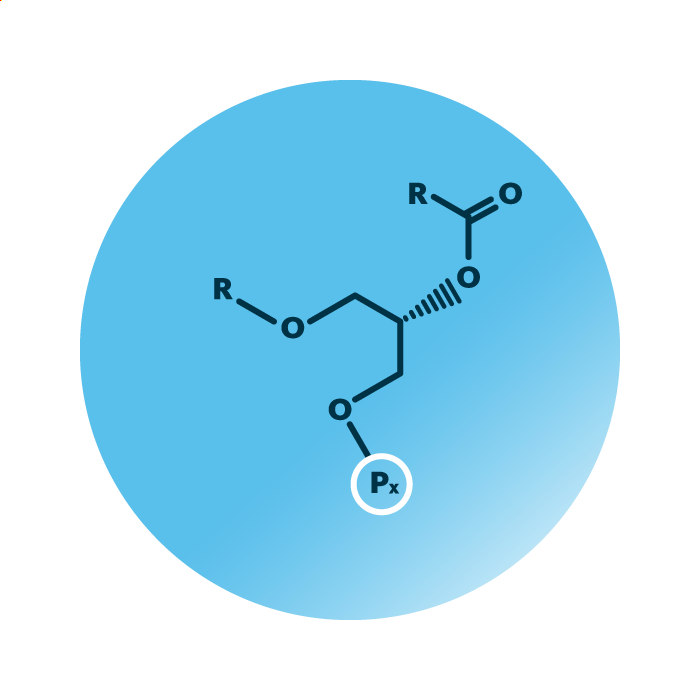 Interested in
Ether Phospholipids
analysis?
---
ABOUT LIPOTYPE
Lipotype is the leading lipidomics service provider for industry and academia. Order your service, send your samples, get your data.
Request Analysis
You want to inquire lipid analysis for your project or ask questions about Lipotype Lipidomics? Please use the contact form below!