About the structure and biological function of WE
Structure. Wax esters (WE) belong to the group of fatty esters within the fatty acyls. Their structure is based on a long-chain fatty acid. The carboxyl group of the WE fatty acid is linked to a long-chain fatty alcohol. Both, the fatty acid and the fatty alcohol of WE can be of variable length, and may further encompass multiple double bonds, acyl groups, and oxygen containing substituents such as hydroxy and keto groups.
Function. Wax esters are found in the surface coating of plant leaves, insects, or animal skin where they often have multiple biological functions such as limiting water diffusion or protecting from environmental stress. In mammals, WE are mostly produced by sebaceous glands of the skin but also meibomian glands, which produce the protective fluid that covers the eyes. WE appear to serve a variety of purposes from energy storage to buoyancy in marine animals, and both, beeswax and wool wax contain high proportions of wax esters. Further, many species of bacteria are known to produce WE for storage.
WE lipidomics analysis with
Lipotype
| | |
| --- | --- |
| Structural details | molecular species |
| Variants identified | > 100 |
| Approach | targeted |
| Method | mass spectrometry |
| Device | Agilent 1290 HPLC + 6495 Triplequad |
| Quantification | yes |
| Delivery time | 6 weeks |
| Lipidomics data | pmol & mol% |
| Figures | in development |
EXAMPLE STRUCTURE
WE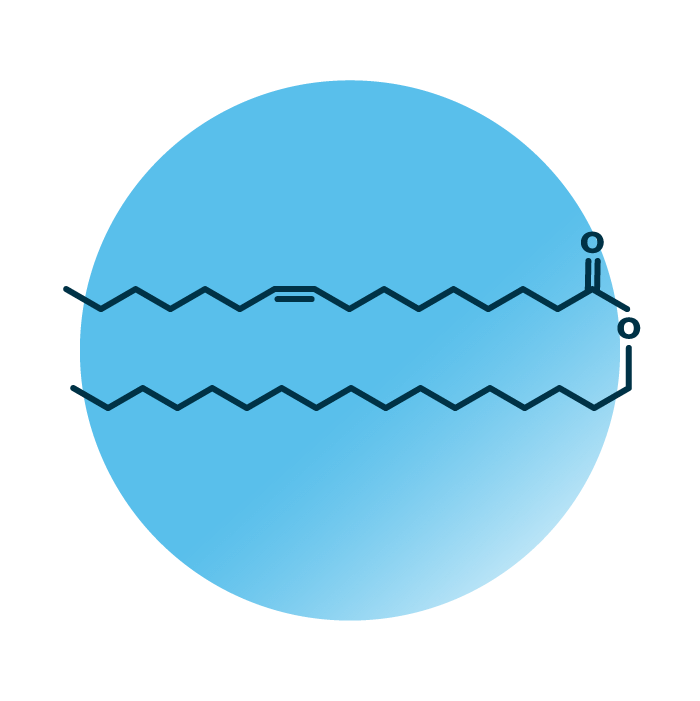 ---
ABOUT LIPOTYPE
Lipotype is the leading lipidomics service provider for industry and academia. Order your service, send your samples, get your data.
Request Analysis
You want to inquire lipid analysis for your project or ask questions about Lipotype Lipidomics? Please use the contact form below!