About the structure and biological function of Ceramide Lipids
Structure. Ceramides belong to the sphingolipids. Their structure consists of a hydrocarbon chain termed long-chain base, such as sphingosine or phytosphingosine. One fatty acid is linked to the ceramide. The type of fatty acid is reflected in the name of the ceramide lipid classes: e.g. α-hydroxyceramides (ACer) contain an α-hydroxy fatty acid.
Function. Ceramides are common to animals and plants and may be found in some fungi and bacteria. They are essential intermediates in the biosynthesis of all complex sphingolipids, such as gangliosides and phosphosphingolipids. They are rapidly converted and present at trace amounts only, except for skin where the intercellular lipid matrix of the outermost skin layer consists of approximately 1/3 of ceramides.
Aside their biosynthetic role, ceramides function as second messengers in signal transduction and regulate cellular processes by impacting lipid raft properties, subdomains of the cell membrane. Ceramides with different long-chain bases and fatty acids are produced in different cellular compartments, via different pathways, and over different time. Their structural composition influences their biological function.
Ceramide Lipids lipidomics analysis with Lipotype
| | |
| --- | --- |
| Covered classes | 13 |
| Approach | untargeted |
| Method | mass spectrometry |
| Device | Q Exactive Orbitrap (280.000 Res) |
| Quantification | yes |
| Delivery time | 2-6 weeks |
| Lipidomics data | pmol & mol% |
CORE STRUCTURE
Ceramide Lipids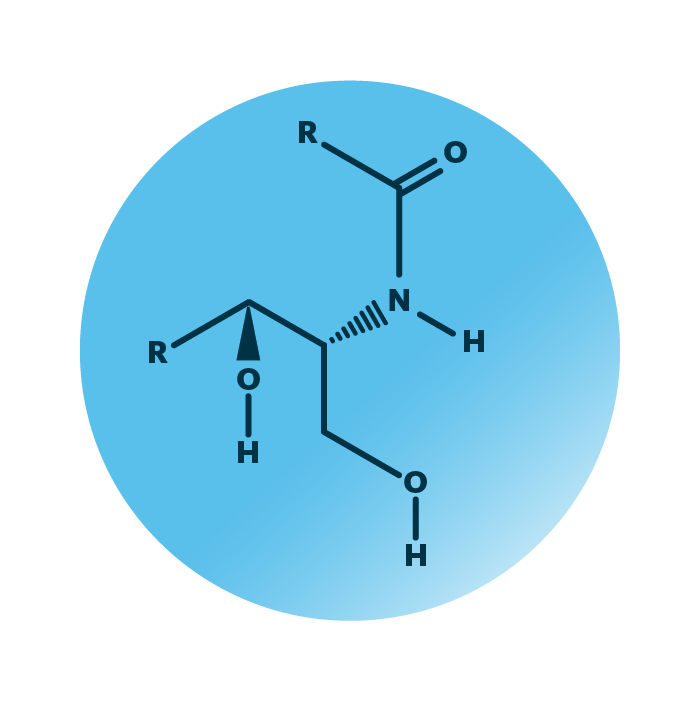 Interested in
Ceramide Lipids
analysis?
---
ABOUT LIPOTYPE
Lipotype is the leading lipidomics service provider for industry and academia. Order your service, send your samples, get your data.
Request Analysis
You want to inquire lipid analysis for your project or ask questions about Lipotype Lipidomics? Please use the contact form below!