About the structure and biological function of MaR
Structure. Maresins (MaR) belong to the group of docosanoids within the fatty acyls. Their structure is based on docosanoic acid, a twenty-two carbon atoms long hydrocarbon chain with a carboxyl group. The chain contains six double bonds of which at least three are in conjugation. MaRs contain at least one oxygen containing substituent. They differ from resolvin Ds in their biosynthetic route.
Function. The biological function of maresins is linked to the resolution of inflammation. They are lipid mediators with interact with G-protein-coupled receptors and belong to the 'Specialized Pro-resolving Mediators' (SPMs), fatty acyls which resolve the pro-inflammatory activities of other fatty acyls, such as prostaglandins. MaRs are produced at the site of inflammation to help tissues to return to health and limiting the recruitment of pro-inflammatory immune cells.
MaR lipidomics analysis with
Lipotype
| | |
| --- | --- |
| Structural details | molecular species |
| Variants identified | < 10 |
| Approach | targeted |
| Method | mass spectrometry |
| Device | Agilent 1290 HPLC + 6495 Triplequad |
| Quantification | yes |
| Delivery time | 6 weeks |
| Lipidomics data | pmol & mol% |
| Figures | in development |
EXAMPLE STRUCTURE
MaR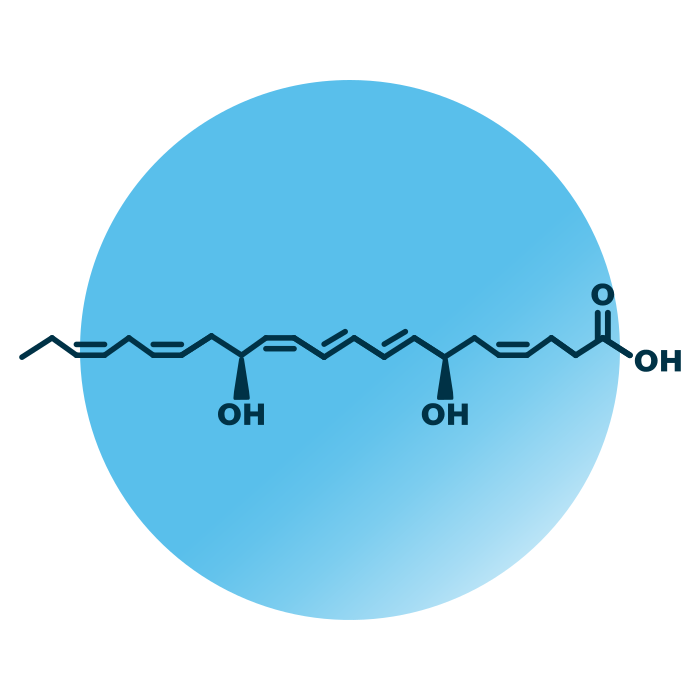 Interested in
MaR
analysis?
---
ABOUT LIPOTYPE
Lipotype is the leading lipidomics service provider for industry and academia. Order your service, send your samples, get your data.
Request Analysis
You want to inquire lipid analysis for your project or ask questions about Lipotype Lipidomics? Please use the contact form below!