Endocannabinoid
We provide MS-based lipid analysis of NAE fatty acyls in a variety of sample types and deliver results in eight or less weeks.
About the structure and biological function of NAE
Structure. Endocannabinoids (NAE) belong to the group of fatty amides within the fatty acyls. Their structure is based on a fatty acid which is often eicosanoic acid, a twenty carbon atoms long hydrocarbon chain with a carboxyl group. The carboxyl group of endocannabinoids is linked to an ethanolamine molecule. The hydrocarbon chain of NAEs may further encompass multiple double bonds and oxygen containing substituents such as hydroxy and epoxy groups.
Function. Endocannabinoids all produce similar biological results through activating the G-protein-linked receptors CB1 and CB2. They act as signaling molecules and their biological function mainly relates to modifying metabolic and physiological processes. The specific effect of an endocannabinoid is subject to the interaction of CB1 and CB2 with further G proteins which in turn is dependent on factors, such as cell type and subcellular location. Thus, NAEs impact a wide variety of cellular processes.
NAE lipidomics analysis with
Lipotype
| | |
| --- | --- |
| Structural details | molecular species |
| Variants identified | < 10 |
| Approach | targeted |
| Method | mass spectrometry |
| Device | Agilent 1290 HPLC + 6495 Triplequad |
| Quantification | yes |
| Delivery time | 6 weeks |
| Lipidomics data | pmol & mol% |
| Figures | in development |
EXAMPLE STRUCTURE
NAE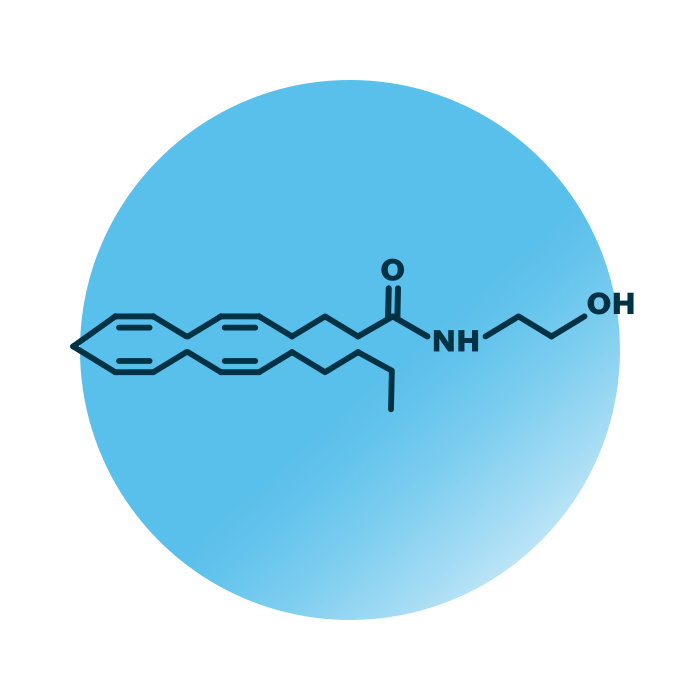 Interested in
NAE
analysis?
ABOUT LIPOTYPE

Lipotype is the leading lipidomics service provider for industry and academia. Order your service, send your samples, get your data.
Request Analysis
You want to inquire lipid analysis for your project or ask questions about Lipotype Lipidomics? Please use the contact form below!