About the structure and biological function of Phospholipids
Structure. Phospholipids are one of the eight categories of lipids and encompass tens of thousands of lipid species. All of these feature a similar molecular structure: they consist of a glycerol backbone linked to a phosphorylated "head" group. Phospholipids further contain one to two ester- or ether-linked fatty acids or fatty alcohols.
Function. Phospholipids are found in the biological membranes of cells of all living organisms. But depending on the specific organism, the types of discoverable phospholipids can greatly vary. Ester phospholipids belong to the most investigated phospholipids, and feature innumerous biological functions. They are the major component of all biological membranes and regulate many cellular functions.
Ether phospholipids influence biophysical properties of biological membranes, and some serve further functions such as platelet aggregation. CDP-glycerols occupy a biosynthetic branch point in phospholipids but also glycerolipids. Diphosphatidylglycerols, a unique type of phospholipids, are structural components of membranes related to the generation of cellular energy.
Phospholipids lipidomics analysis with Lipotype
| | |
| --- | --- |
| Covered classes | 18 |
| Approach | untargeted |
| Method | mass spectrometry |
| Device | Q Exactive Orbitrap (280.000 Res) |
| Quantification | yes |
| Delivery time | 2-6 weeks |
| Lipidomics data | pmol & mol% |
CORE STRUCTURE
Phospholipids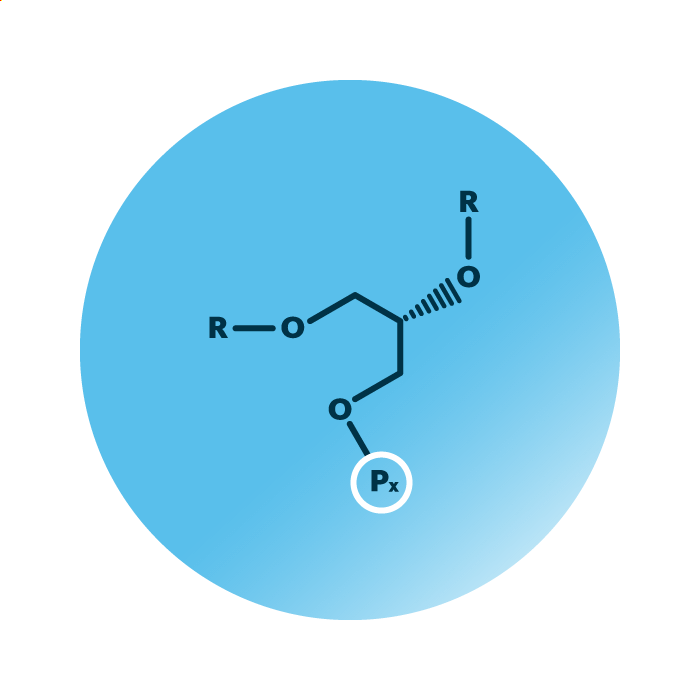 Interested in
Phospholipids
analysis?
---
ABOUT LIPOTYPE
Lipotype is the leading lipidomics service provider for industry and academia. Order your service, send your samples, get your data.
Request Analysis
You want to inquire lipid analysis for your project or ask questions about Lipotype Lipidomics? Please use the contact form below!