About the structure and biological function of PG
Structure. Phosphatidylglycerols (PtdGro, GPGro, or PG) belong to the group of ester phospholipids within the phospholipids. Their structure consists of a glycerol backbone linked to two fatty acids and a phosphoglycerol molecule. The fatty acids can be of variable length, hydroxylated, and contain double bonds.
Function. Phosphatidylglycerols are key intermediates in the biosynthesis of many lipids but especially of cardiolipin. They are essential for the development of normal membranes of chloroplasts and mitochondria in higher plants. In bacteria, phosphatidylglycerols are important for optimal functioning of the bacterial machinery and play a role in protein folding and binding. Further, phosphatidylglycerols have a role in the regulation of the innate immune response in the lungs.
PG lipidomics analysis with
Lipotype
| | |
| --- | --- |
| Structural details | subspecies level |
| Variants identified | > 500 |
| Approach | untargeted |
| Method | mass spectrometry |
| Device | Q Exactive Orbitrap (280.000 Res) |
| Quantification | yes |
| Delivery time | 2-6 weeks |
| Lipidomics data | pmol & mol% |
| Figures | included |
1Cells Basic includes:
TAG, DAG, PA, PC, PE, PG, PI, PS, SM, CE

2Blood Extended includes:
PA, PG, LPA, LPI, LPC O-, LPE O-, HexCer


EXAMPLE STRUCTURE
PG
EXAMPLE
PG 14:1;0_16:0;0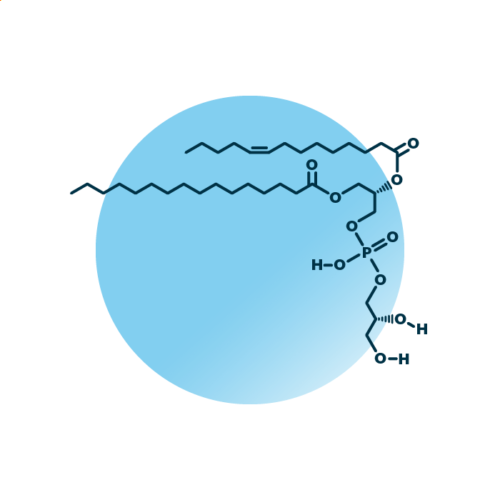 ---
ABOUT LIPOTYPE
Lipotype is the leading lipidomics service provider for industry and academia. Order your service, send your samples, get your data.
Request Analysis
You want to inquire lipid analysis for your project or ask questions about Lipotype Lipidomics? Please use the contact form below!