About the structure and biological function of MAG
Structure. Monoacylglycerols (monoglycerides, MAG, or MG) belong to the glycerol esters lipid group within the glycerolipids category. Their structure consists of a glycerol backbone linked to one fatty acid. The fatty acid can be of variable length, hydroxylated, and contain double bonds.
Function. Monoacylglycerols serve many biological functions. MAGs are important intermediates in the biosynthesis of glycerol lipids and phospholipids. In animals, they support the absorption of lipid soluble vitamins and are also known to be involved in the regulation of skin barrier function to maintain transepidermal water loss. Further, monoacylglycerols function as signaling molecules and have been shown to possess anti-inflammatory properties.
MAG lipidomics analysis with
Lipotype
| | |
| --- | --- |
| Structural details | molecular species |
| Variants identified | > 10 |
| Approach | targeted |
| Method | mass spectrometry |
| Device | Agilent 1290 HPLC + 6495 Triplequad |
| Quantification | yes |
| Delivery time | 6 weeks |
| Lipidomics data | pmol & mol% |
| Figures | in development |
EXAMPLE STRUCTURE
MAG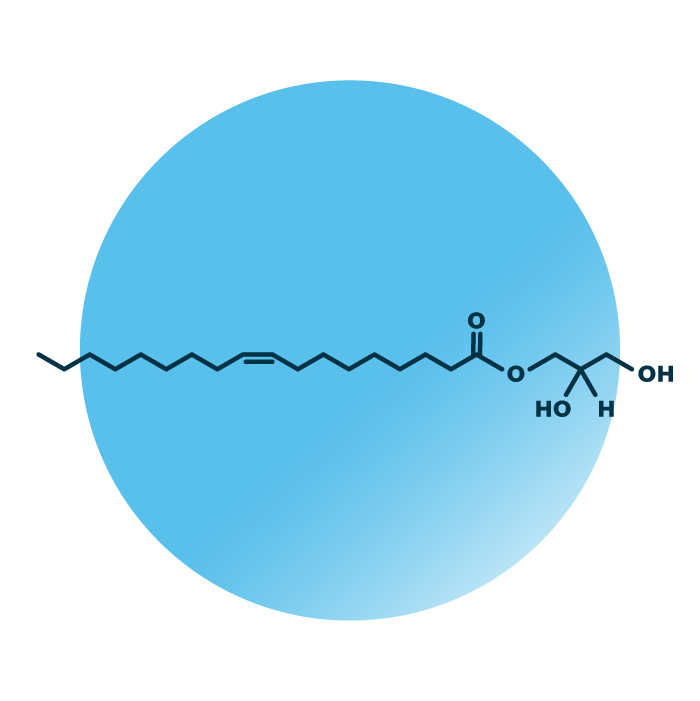 Interested in
MAG
analysis?
---
ABOUT LIPOTYPE
Lipotype is the leading lipidomics service provider for industry and academia. Order your service, send your samples, get your data.
Request Analysis
You want to inquire lipid analysis for your project or ask questions about Lipotype Lipidomics? Please use the contact form below!