About the structure and biological function of Chol
Structure. Cholesterol (Chol) belongs to the group of cholesterol lipids within the sterol lipids. Its structure consists of four linked hydrocarbon rings, the steroid structure. A hydrocarbon tail is linked to one end of the steroid, a hydroxyl group linked to the other end.
Function. Cholesterol has a vital function in animals. It is an essential component of cell membranes and lipid rafts. It is a precursor of steroid hormones and other metabolites such as vitamin D or bile acids. Cholesterol also is important for cell signaling, transport processes, and regulation of gene readout, and an abundant constituent of the water permeability barrier in skin and of myelin in the brain. Further, excess cholesterol is linked to cardiovascular disease.
Chol lipidomics analysis with
Lipotype
| | |
| --- | --- |
| Structural details | class level |
| Variants identified | 1 |
| Approach | untargeted |
| Method | mass spectrometry |
| Device | Q Exactive Orbitrap (280.000 Res) |
| Quantification | yes |
| Delivery time | 2-6 weeks |
| Lipidomics data | pmol & mol% |
| Figures | included |
1Blood Basic includes:
TAG, DAG, PC, PE, PI, LPC, LPE, PC O-, PE O-, Cer, SM, Chol, CE

2Skin includes:
TAG, DAG, EOdS, EOS, EOP, EOH, NdS, NS, NP, NH, AdS, AS, AP, AH, Chol, CE


EXAMPLE STRUCTURE
Chol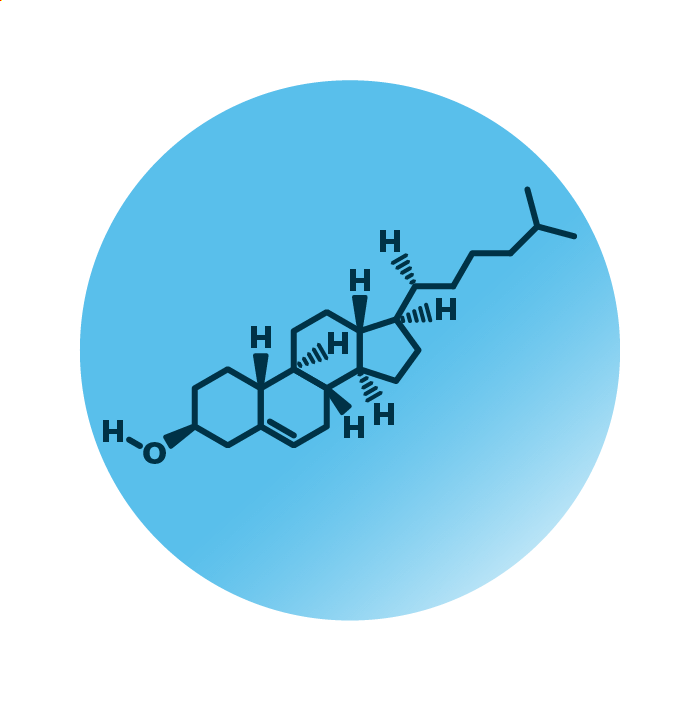 Interested in
Chol
analysis?
---
ABOUT LIPOTYPE
Lipotype is the leading lipidomics service provider for industry and academia. Order your service, send your samples, get your data.
Request Analysis
You want to inquire lipid analysis for your project or ask questions about Lipotype Lipidomics? Please use the contact form below!