Everything you should know
ABOUT US
Lipotype is a spin-off company from the laboratories of Prof. Dr. Kai Simons and Dr. Andrej Shevchenko of the Max-Planck-Institute of Molecular Cell Biology and Genetics in Dresden, Germany. Our team is composed of experts in membrane and lipid biology/chemistry, mass spectrometry, and bioinformatics. Our experience is based on years of academic research focusing primarily on the role of lipids in various cellular processes and on methodological/ technical aspects of lipidomics. Lipotype was founded in 2012.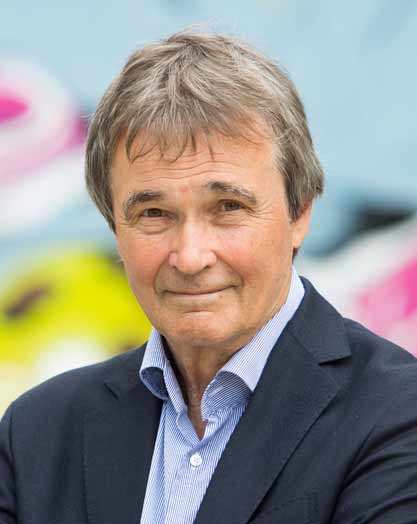 Kai Simons
Founder and CEO
Kai Simons is Emeritus Director of the Max Planck Institute for Molecular Cell Biology and Genetics and CEO of Lipotype GmbH in Dresden, Germany. Kai Simons received his MD degree from the University of Helsinki. Simons then conducted postdoctoral research at Rockefeller University in New York. In 1967, he was Principal Investigator of the Finnish Medical Research Council at the University of Helsinki.
In 1975, he moved to the European Molecular Biology Laboratory (EMBL) in Heidelberg, Germany, where he started the Cell Biology Program, which became the focal point for molecular cell biology in Europe. In 2001 Kai Simons moved to Dresden to build up the new Max Planck Institute for Molecular Cell Biology and Genetics. This Institute is today an internationally recognized center in its area of research.
His recent research has focused on cell membrane organization and function. He has pioneered the concept of lipid rafts as a membrane organizing principle, based on the phase-separating capabilities of sphingolipids and cholesterol in cell membranes. For his contributions to cell biology, Kai has received numerous accolades, including the Keith Porter Lecturer of the American Society for Cell Biology, a Harvey Society Lecturer, Dunham Lecturer at Harvard Medical School, and Li Lecturer, UC Berkeley.
He has received the Anders Jahre Prize for Medical Research, the Runeberg Prize, Finland, the Laurens van Deenen Medal, University of Utrecht, the Schleiden Medal of the Academy Leopoldina and the Äyräpää Prize, Finland.He is Doctor Honoris Causa at the Universities of Geneva, Oulu and Kuopio, Finland and Leuven, Belgium. Kai is a foreign member of the National Academy of Sciences, USA, and was the President of the European Life Scientist Organization. In 2007–2008 Kai was co-director of the Shanghai Institute for Advanced Studies of the Chinese Academy of Science. His biotech experience includes co-founding the Biotech-Start-up Jado Technologies and membership in the scientific advisory boards of Biogen and Sanofi.
With Lipotype, 2013 winner of the start-up competition futuresax of the Free State of Saxony and 2015 winner of the cross-cluster competition "Emerging Industries", Kai Simons is now focusing on translating lipidomics and lipid analysis to clinical and industrial applications.
Our Team: Leading Experts from multiple disciplines
Dr. Oliver Uecke
Chief Operating Officer
Dr. Oliver Uecke is Chief Operating Officer at Lipotype.
Dr. Oliver Uecke holds a MBA and did his PhD in the field of technology transfer, entrepreneurship and innovation management in biotechnology. In his role as COO Oliver is responsible for business operations at Lipotype with a primary focus on business development, marketing & sales and finances. Oliver is also expert for the European Commission as well as member of the executive board of biosaxony and advisory board member of DiagnostikNet-BB.
Dr. Christian Klose
Chief Technology Officer
Dr. Christian Klose is Chief Technology Officer at Lipotype.
After receiving his PhD on membrane biology and biophysics, he did a post-doc on mass spectrometry-based lipidomics with Andrej Shevchenko. As project leader of the EXIST-Forschungstransfer project "Lipotype" he was involved in the buildup of Lipotype from the start. Christian published numerous papers in the field of membrane biology and lipidomics. In his role as Chief Technology Officer Christian enjoys developing novel technology and putting it into action for routine use.
Dr. Ronny Herzog
Head of Software Engineering and IT-Infrastructure
Dr. Ronny Herzog is Head of Software Engineering and IT-Infrastructure at Lipotype.
He holds a Diploma in Informatics and did his PhD in Bioinformatics on software for lipid identification from mass spectrometers. He published several first author papers before moving to Lipotype. He is trained in a wide variety of programming languages and technologies while working with different companies and the Technische Universität Dresden. At Lipotype he refined his skills in professional software engineering and enjoys using new and innovative software technologies.
Dr. Mathias Gerl
Head of Data and Statistical Analysis
Dr. Mathias Gerl is Head of Data and Statistical Analysis at Lipotype.
Prior to Lipotype he was doing his PhD on lipidomics and cell biology of polarised cells and viruses in the laboratory of Kai Simons (MPI-CBG, Dresden). In his postdoctoral research with Britta Brügger in Heidelberg he was investigating protein-lipid interactions using click-chemistry and CRISPR knock-outs. Mathias was early on passionate about large multivariate datasets and their graphical representations. This he now combines at Lipotype with his know-how of lipids biochemistry, pathways and membrane biology. In his role as Head of Data and Statistical Analysis Mathias is responsible for statistical inference and predictive modelling.