Diphospha­tidyl­glycerols
About the structure and biological function of Diphospha­tidyl­glycerols
Structure. Diphosphatidylglycerols belong to the phospholipids. Their structure is unique among them and essentially consists of two phospholipids linked to each other via a glycerol backbone. It contains up to four fatty acids which are ester- or ether-linked to the phosphatidates. They often contain a relatively simple fatty acid species composition leading to a high degree of structural symmetry.
Function. Diphosphatidylglycerols are common to all living organisms. They are important phospholipid components of membranes that are involved in the generation of electrochemical potential for energy synthesis such as mitochondria. There, they interact with membrane proteins to control their biological functions. As such, they are crucial to survival in all species.
The most prominent and extensively studied diphosphatidylglycerol is cardiolipin (CL) which contains four ester-linked fatty acids and is coined the 'signature lipid' of mitochondria. But little is known about the function of ether-linked diphosphatidylglycerols which have only been found in archaea living under extreme conditions.
Diphospha­tidyl­glycerols lipidomics analysis with Lipotype
| | |
| --- | --- |
| Covered classes | 1 |
| Approach | untargeted |
| Method | mass spectrometry |
| Device | Q Exactive Orbitrap (280.000 Res) |
| Quantification | yes |
| Delivery time | 2-6 weeks |
| Lipidomics data | pmol & mol% |
CORE STRUCTURE
Diphospha­tidyl­glycerols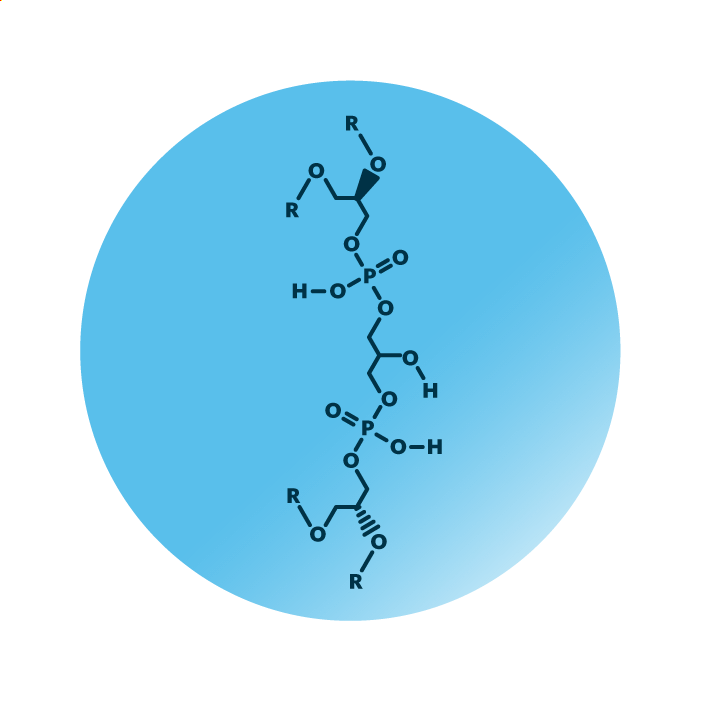 Interested in
Diphospha­tidyl­glycerols
analysis?
---
ABOUT LIPOTYPE
Lipotype is the leading lipidomics service provider for industry and academia. Order your service, send your samples, get your data.
Request Analysis
You want to inquire lipid analysis for your project or ask questions about Lipotype Lipidomics? Please use the contact form below!