Oxidized Octadeca­enoic Acid
About the structure and biological function of oxiOME
Structure. Oxidized octadecaenoic acids (oxiOME) belong to the group of octadecanoids within the fatty acyls. Their structure is based on octadecanoic acid, an eighteen carbon atoms long hydrocarbon chain with a carboxyl group. The chain contains one double bond, from which their name derives. OxiOMEs may further encompass multiple oxygen containing substituents such as hydroxy and epoxy groups.
Function. The biological role of oxidized octadecaenoic acids is associated with modifying inflammatory responses. For example, they increase sensitivity to inflammatory pain. OxiOME synthesis is increased during cold temperatures to stimulate activity of brown adipose tissue and thus body temperature – a mechanism which is also triggered by exercising. Dysregulated oxidized octadecaenoic acids levels have been found in pulmonary diseases such as asthma and chronic obstructive pulmonary disease (COPD).
oxiOME lipidomics analysis with
Lipotype
| | |
| --- | --- |
| Structural details | molecular species |
| Variants identified | < 10 |
| Approach | targeted |
| Method | mass spectrometry |
| Device | Agilent 1290 HPLC + 6495 Triplequad |
| Quantification | yes |
| Delivery time | 6 weeks |
| Lipidomics data | pmol & mol% |
| Figures | in development |
EXAMPLE STRUCTURE
oxiOME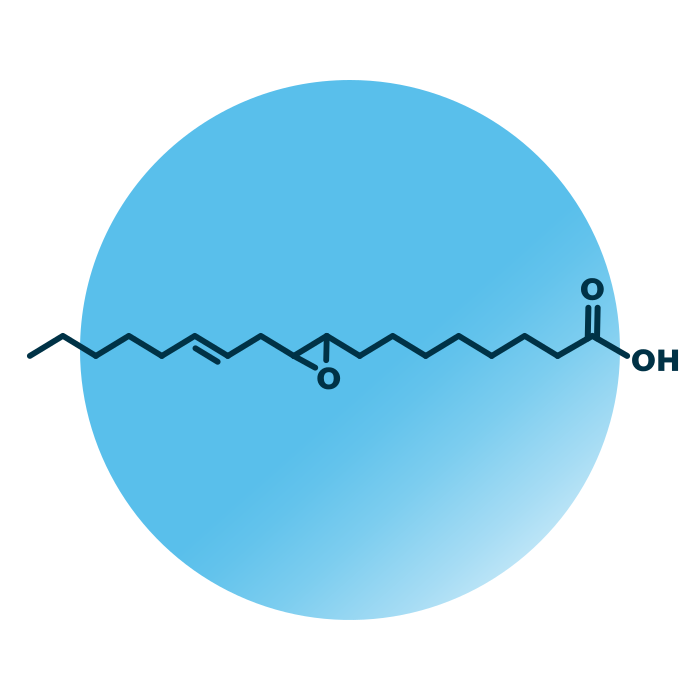 Interested in
oxiOME
analysis?
---
ABOUT LIPOTYPE
Lipotype is the leading lipidomics service provider for industry and academia. Order your service, send your samples, get your data.
Request Analysis
You want to inquire lipid analysis for your project or ask questions about Lipotype Lipidomics? Please use the contact form below!