About the structure and biological function of CDP-Glycerols
Structure. CDP-glycerols belong to the phospholipids. Their structure consists of a glycerol backbone linked to a cytidine diphosphate "head" group – a type of nucleotide which also serves as a base unit of DNA and RNA. CDP-glycerols further contain up to two ester- or ether-linked fatty acids. Similarly to glycerol esters, CDP-diglycerides contain two fatty acids and CDP-monoglycerides one fatty acid.
Function. CDP-glycerols are common to all living organisms where they occupy a branch point in the biosynthesis of both, phospholipids and glycerolipids. The specific biosynthetic route to a distinct end product depends on the subcellular location of the CDP-glycerol lipids. Thus, their availability can indirectly influence the many functions of phospholipids and glycerolipids.
CDP-diglycerides (CDP-DAG) are the most extensively investigated CDP-glycerols. They contain two ester-linked fatty acids and their biochemical conversion into other lipids has been described in great detail. But little is known about the function of CDP-monoglycerides and ether-linked CDP-glycerols, of which the latter one has only been found in archaea.
CDP-Glycerols lipidomics analysis with Lipotype
| | |
| --- | --- |
| Covered classes | 1 |
| Approach | untargeted |
| Method | mass spectrometry |
| Device | Q Exactive Orbitrap (280.000 Res) |
| Quantification | yes |
| Delivery time | 2-4 weeks |
| Lipidomics data | pmol & mol% |
CORE STRUCTURE
CDP-Glycerols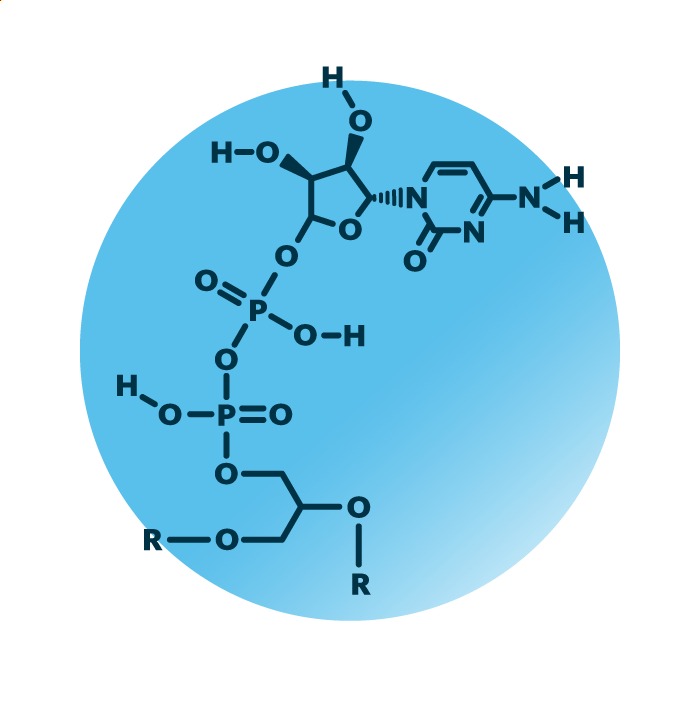 Interested in
CDP-Glycerols
analysis?
---
ABOUT LIPOTYPE
Lipotype is the leading lipidomics service provider for industry and academia. Order your service, send your samples, get your data.
Request Analysis
You want to inquire lipid analysis for your project or ask questions about Lipotype Lipidomics? Please use the contact form below!