Phosphatidyl-choline
We provide MS-based lipid analysis of PC phospholipids in a variety of sample types and deliver results in as little as two weeks.
Details
About the structure and biological function of PC
Structure. Phosphatidylcholines (lecithins, PtdCho, GPCho, or PC) are a type of glycerophosphocholines, a class of glycerophospholipids. Their structure consists of a glycerol backbone linked to two fatty acids and a phosphocholine molecule. The fatty acids can be of variable length, hydroxylated, and contain double bonds.
Phosphatidylcholines are mainly found in eukaryotes. On a subcellular level, they are enriched in cell membranes and in lipoprotein particles of blood plasma.
Function. Phosphatidylcholines serve as key building blocks for biological membranes, and they play an important role in plasma lipoproteins, the biochemical structures to transport lipids in blood plasma. Phosphatidylcholine is a precursor of acetylcholine, a neurotransmitter. Platelet-activating factor is a phosphatidylcholine. Phosphatidylcholines are elevated in cancers because of the increased demand for membrane constituents, and linked to liver conditions such as non-alcoholic fatty liver disease.
Related research
Breast Cancer & Lipid Metabolism
Breast cancer phospholipid metabolism is a powerful target for new therapies, especially against triple-negative breast cancer.
Read more
GENERAL STRUCTURE
PC
PC lipidomics analysis with
Lipotype
| | |
| --- | --- |
| Structural details | subspecies level |
| Variants identified | > 500 |
| Method | mass spectrometry |
| Device | Q Exactive Orbitrap (280.000 Res) |
| Quantification | yes |
| Delivery time | 2-6 weeks |
| Lipidomics data | pmol & mol% |
| Figures | included |
1Cells Basic includes:
TAG, DAG, PA, PC, PE, PG, PI, PS, CE, SM

2Blood Basic includes:
TAG, DAG, PC, PE, PI, LPC, LPE, PC O-, PE O-, Chol, CE, Cer, SM


REPORTED AS
PC 12:0;0_16:1;0
GENERAL STRUCTURE
PC
REPORTED AS
PC 18:0;0_22:5;0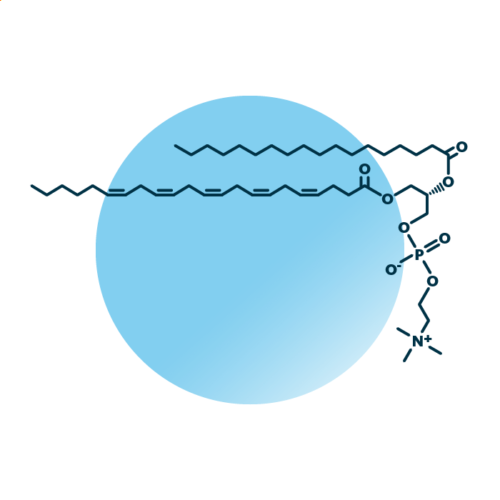 About Lipotype

Lipotype is the leading lipidomics service provider for industry and academia. Order your service, send your samples, get your data.
Request analysis
You want to inquire lipid analysis for your project or ask questions about Lipotype Shotgun Lipidomics? Please use the contact form below!