Cardiolipin
We provide MS-based lipid analysis of CL phospholipids in a variety of sample types and deliver results in as little as two weeks.
Details
About the structure and biological function of CL
Structure. Cardiolipins (Ptd2Gro, or CL) are a type of glycerophospholipids. Their structure consists of two diacylglycerophosphates linked to each other via a third glycerol backbone. In total, cardiolipins contain four ester-linked fatty acids. They can be of variable length, hydroxylated, and contain double bonds.
Cardiolipins are found in all organisms. On a subcellular level, they are enriched in mitochondria and in peroxisomes of eukaryotes, and in cell membranes of prokaryotes.
Function. Cardiolipins are tied to the synthesis of ATP, cellular energy. They are a vital component of cellular membranes whose function is to generate an electrochemical potential, such as mitochondrial membranes. There, they interact with many membrane proteins regulating and controlling their functions. They are also involved in apoptosis and mitophagy, programmed cell death and mitochondrial degradation. Further, cardiolipin aberrations are linked to Barth syndrome, cancer, diabetes, and Parkinson's disease.
Related research
Cardiac Lipid Metabolism
Heart failure changes lipid metabolism in cardiac tissue of mice. The altered lipid profile can be confirmed in human plasma.
Read more
GENERAL STRUCTURE
CL
CL lipidomics analysis with
Lipotype
| | |
| --- | --- |
| Structural details | species level |
| Variants identified | > 100 |
| Method | mass spectrometry |
| Device | Q Exactive Orbitrap (280.000 Res) |
| Quantification | yes |
| Delivery time | 2-6 weeks |
| Lipidomics data | pmol & mol% |
| Figures | included |
1Cells Extended includes:
LPA, LPC, LPE, LPG, LPI, LPS, CL, PC O-, PE O-, LPC O-, LPE O-, Cer, HexCer


REPORTED AS
CL 76:5;0
GENERAL STRUCTURE
CL
REPORTED AS
CL 69:4;0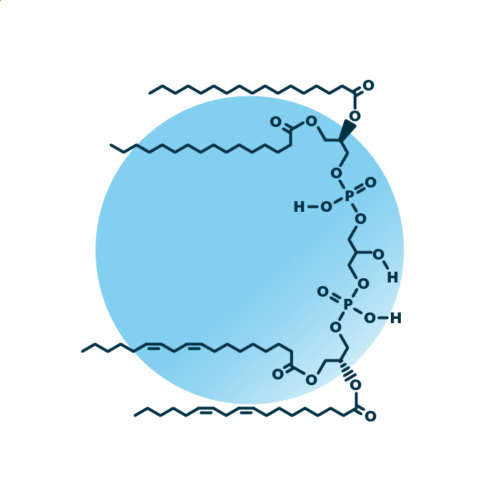 About Lipotype

Lipotype is the leading lipidomics service provider for industry and academia. Order your service, send your samples, get your data.
Request analysis
You want to inquire lipid analysis for your project or ask questions about Lipotype Shotgun Lipidomics? Please use the contact form below!