Ceramide
We provide MS-based lipid analysis of Cer sphingolipids in a variety of sample types and deliver results in as little as two weeks.
About the structure and biological function of Ceramide
About the structure and biological function of Cer
Structure. Ceramides (Cer) belong to the group of ceramide lipids within the sphingolipids. Their structure consists of a long-chain base which is linked to a fatty acid via an amide bond. The long-chain base and the fatty acid can be of variable length, hydroxylated, and contain double bonds.
Function. Ceramides are essential intermediates in the biosynthesis of all complex sphingolipids. Except for skin, ceramides are rapidly converted and present at trace amounts only, yet they serve important biological roles. They can form ceramide-rich lipid rafts within the cell membrane, and have a vital function in cellular signaling related to apoptosis, cell differentiation, and proliferation. Further, ceramides are linked to metabolic diseases, cancer, neurodegeneration, and cardiovascular disease.
Ceramide lipidomics analysis with Lipotype
| | |
| --- | --- |
| Covered classes | 0 |
| Approach | untargeted |
| Method | |
| Device | Q Exactive Orbitrap (280.000 Res) |
| Quantification | |
| Delivery time | 2-6 weeks |
| Lipidomics data | |
| Figures | included |
STRUCTURE
Ceramide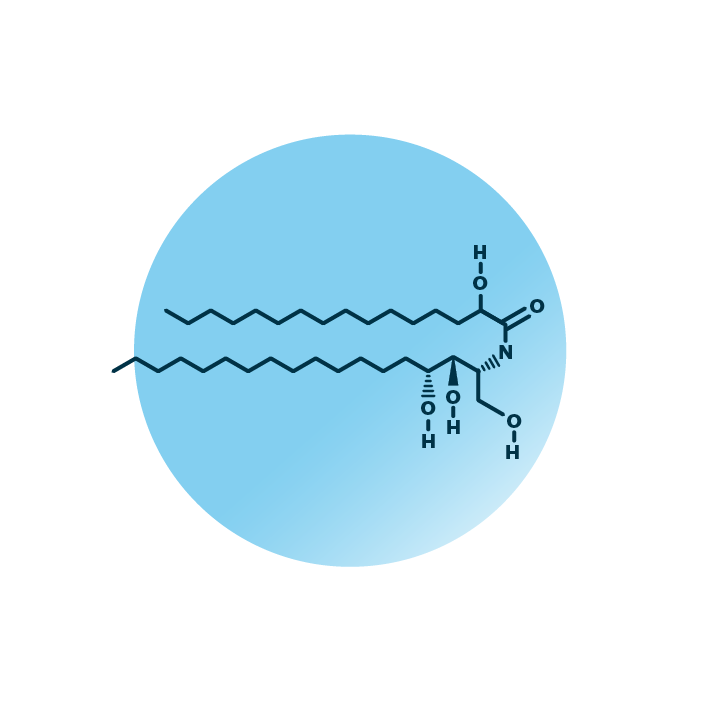 Interested in
Ceramide
analysis?
---
ABOUT LIPOTYPE

Lipotype is the leading lipidomics service provider for industry and academia. Order your service, send your samples, get your data.
Request analysis
You want to inquire lipid analysis for your project or ask questions about Lipotype Lipidomics? Please use the contact form below!